When it comes to flooring, this can be one of the most important design decisions, if not the MOST important. It is after all, the place where you will stand and walk on day-in and day-out. It is also one of the decisions that can completely alter the look and feel of a space.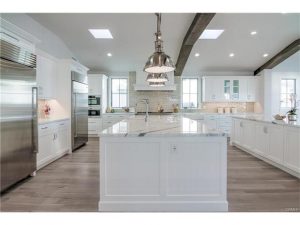 And beyond aesthetics, it is also crucial that your decision factors in your family and lifestyle. Ask yourself these questions: "Do you have pets?" Do your pets have long nails and are they potty trained? Is your family the type that removes their shoes before coming inside? Do you eat at the dinner table or freely in the living room surrounding the TV?" These are all important living habits to closely evaluate as they will directly effect the life of the product you select.
As a Realtor we have walked miles on various types of flooring and styles. Trends are ever-changing and in the South Bay ( particularly Manhattan Beach + Hermosa Beach ), we are starting to see homeowners and developers cascading towards using a consistent style throughout the home, with little design pops here and there. This helps uniform and bring the spaces together and can also have an added benefit on your wallet.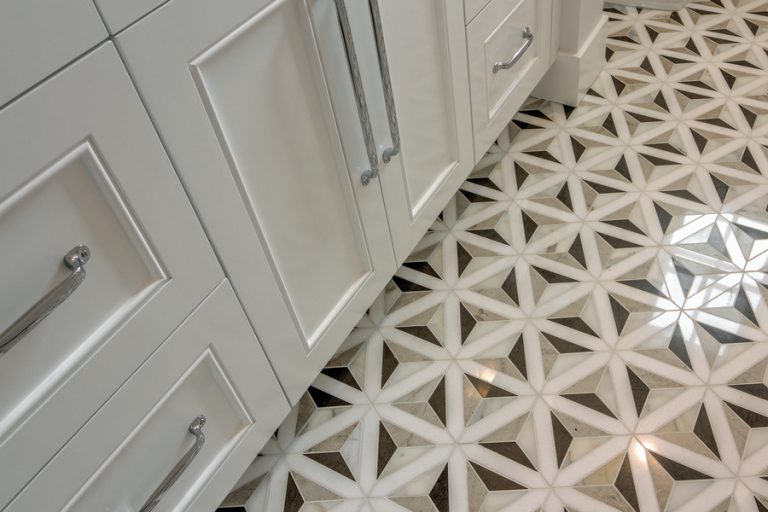 To help you through the arduous process of selecting the perfect flooring for your needs, we've provided a list of pros/cons of many popular flooring options.
CERAMIC or PORCELEIN TILE:
These are generally glazed squares made of either ceramic or porcelain that provide a durable coated surface
Pros: Can be used in indoor/outdoor environments and is affordable, easy to clean and sterilize as a hygienic surface. Is strong and durable and comes in a wide variety of designs and colors that are resistant to stains. Cracked or broken tiles can be easily fixed by replacing single-tiles.
Cons: Not made for comfort and can be stiff and rigid on bare feet. Very strong and durable; which also means it puts up a fight against any items that are dropped on its surface, resulting in broken dishes and glass.
FLOATING WOOD TILE:
Primarily composed of synthetic material that emulates a wood appearance that is then laminated. Also available in a stone.
Pros: Simple installation process that often consists of using the Tongue & Groove method; which doesn't require the use of adhesive. The materials are formulated to lock into place. This stain-resistant material is also simple to replace and easy to clean
Cons: Since the material is synthetic and faux-real, it cannot be sanded or refinished. What you order is what you get! Over time, scuff marks may become more visible.
HARDWOOD FLOORS:
Many types of wood options are available such as; Oak, Maple, Hickory and Redwood and the flooring is milled from a single piece of timber.
Pros: Hardwood flooring has since proven many times over to have the best return on your investment. It is extremely durable and has universal appeal to homeowners. Hardwood floors can be sanded and refinished many times over in their lifetime. Because of their quality, they usually increase the value and appeal of the home. Hardwood is also water resistant and very simple to clean, leaving you with a healthy and earthy environment. With proper care, these floors can last for multiple generations.
Cons: Significantly more expensive than other flooring and the installation process can be rather labor intensive. Like any wood, over time the wood may shrink or expand depending on environmental changes. They do not provide a great sound barrier between floors and tend to elevate sound.
CARPET:
Synethic and natural fibers are available and also available in many patterns, styles and colors.
Pros: This is typically the most highly used product in flooring, as it provides comfort at an affordable price. It is not slippery, therefore making it the safest product available. It has the added benefits of being an insulator and noise dampener.
Cons: The expectant lifespan is much lower because of the noticeable wear and tear that comes with carpeted solutions. Not allergy friendly and is an extremely unhealthy option, carpet traps dirt, dust mites, mold, etc and also stains very easily. It is not a good investment because it typically needs to be replaced every 5-7 years.
BAMBOO:
Bamboo is an eco-friendly natural option that uses bamboo reeds installed over the sub-floor.
Pros: This is a hypoallergenic option and is extremely durable and highly renewable. The installation of Bamboo flooring is very simple and easy. Bamboo is naturally colored and comes in a light, sandy color and is easy to care for and clean.
Cons: More susceptible to water damage and can cause issues over time with repeated exposure to dampness. The sun is harsh on bamboo flooring and can cause discoloration of the flooring.
We love this pop of color in this tile design. It is a nice welcomed break from the hardwood flooring that is consistent throughout the house